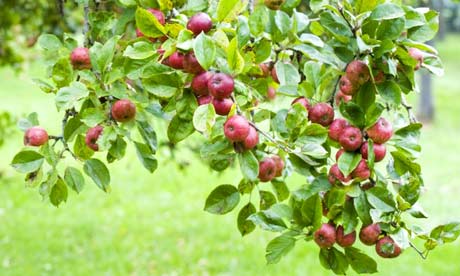 R

emember apple kitchen décor? Hint: it came after ducks and cows but before roosters (if you need help with your kitchen tzotchke timeline).
I stand corrected! Apple decor is apparently alive and well--this pic is an Amazon offering.
Well, you can take the girl out of the 90's, but you can't take the 90's out of the girl. I love apples—love to pile a heap of them in a bowl on my kitchen table, love to see the varieties at the grocery store (or even better, farmer's market), I love it all! Maybe it's because all apples are one (or both) of my favorite colors—red and green.
Anyway, I just got two big boxes of apples from
Wenatchee
(thanks, Heather!). Here are some of my favorite things to do with them (yes, I'm madly trying to use up my apples before they go bad without having to resort to doing something crazy like canning or something):
Apple Crisp
1 1/3 cups flour
1 1/3 oatmeal (I always use old-fashioned but quick oats turn out just fine)
1 cup brown sugar
1 cup butter
1 tsp. cinnamon
1/4 tsp. salt
8-10 medium apples, peeled, cored and sliced
1 cup brown sugar
2 Tbsp. lemon juice
Preheat oven to 375 degrees.
Peel, core and slice apples (using a apple corer/peeler/slicer gadget = fun!). Mix with 1 cup brown sugar and 2 Tbsp. lemon juice and spread evenly on the bottom of a buttered 9 x 13 pan.
Combine flour, oats, other brown sugar, cinnamon and salt together in a bowl (I use the same bowl I mix the apples in because I hate dishes just that much I'm such an efficient cook). Cut butter into dry ingredients until the mixture is crumbly. You can either use the paddle attachment on a KitchenAid mixer, or a pastry cutter or your fingers. Sprinkle topping on the fruit and bake in oven for about 30 minutes or until delicious! This makes a nice big family-sized plus friends amount of Apple Crisp (okay, about 10-12 servings--more if you are big on portion control).
Crock Pot Pork Chops with Apples and Sauerkraut
A German-inspired nod to that old Brady bunch classic, "Porkchops and Applesauce."
8 pork chops, fat trimmed
Salt and pepper
Olive oil and butter for browning
1 medium Onion
3 cups Sauerkraut
3 apples (firm, slightly tart type like Fuji or Braeburn--Granny Smith's work, too)
2/3 cups apple juice or water
2 tsp. caraway seeds
Layer half the apples and sauerkraut on the bottom of a large crockpot. Sprinkle 1/2 the caraway seeds on top.
Sprinkle both sides pork chops with salt and pepper. Brown both sides in equal amounts of olive oil and butter. Put browned chops in the crockpot. Deglaze the pan with apple juice or water. Layer the rest of the sauerkraut, apple slices and caraway seeds over the chops. Pour the deglazed pan juices over everything. Cook on high for 4 hours or low for about 6. Yum!