We are busy, busy, as usual. We also started having our master bathroom remodeled this week. I wish I could brag that it is me and my husband sweating it out, but I have to admit that we have hired a contractor and it is nice knowing it will be done soon, with minimal stress on our parts, other than enduring the noise and mess that comes with remodeling.
So I've been able to concentrate on the fun part: the design. I want to feel like I stepped into a sunny day at the beach every time I go in my bathroom. I also want a more contemporary look than I normally go for. I just like a bathroom to feel (and hopefully be) clean. Here are some inspiration photos I pinned:
Via Decorpad
via Google Images
I love the open vanity and beachy feel.
Love the outdoor tropical shower
Here is a sneek peek of what we are doing:
Shower tile (Silver vein-cut travertine for $3/square foot from Craigslist)
Floor tile (Grey limestone, $4 a square foot, another Craigslist find)
Vanity--just waiting for cute baskets of towels, etc., on the bottom: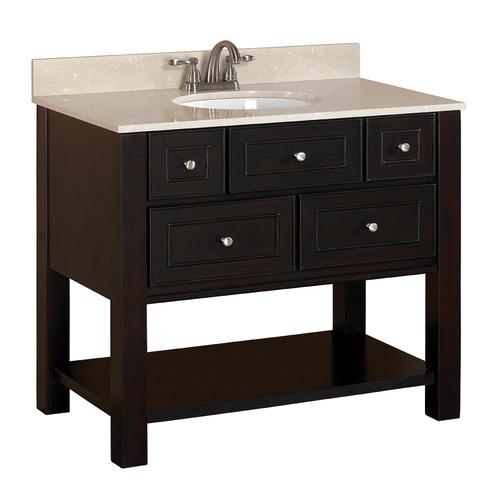 Showerhead:
Paint Color:
Right now we have a hole in our kitchen ceiling, and everything in our bathroom is gone except the floors and the wall. We had our rusty, galvanized pipes replaced as well, and we are loving the water pressure in our one working shower. They installed the Hardiboard in the shower, and we are now living in a house that looks basically normal except for the light coating of drywall dust that has settled over everything. I never thought I'd say it, but I just really want to be able to clean my house.... Right now, there is no point.
But man, am I glad that we can afford to remodel our bathroom right now. It is going to function and look sooooo much better. I'll post some more progress pictures in a few days.