I love my mom. She has a very strong color sense. She is very creative and artistic. She loves to improve her painting and will pour over large, technical color theory books like I pour over a good novel. She knows what colors she likes, and what colors she doesn't like. She likes warm colors--golds and siennas and corals--and would be thoroughly at home in a Tuscan landscape.
She doesn't like blue.
I grew up echoing her anti-blue sentiments. When we'd go into some one's house decorated in blue, she would say to me in the car later, "What a lovely home they had--but all that blue just feels so cold." And like you do when you are a kid, I would nod. Blue=cold. Check.
Mom, I love you so, but I have a confession to make...
I love this blue:
I know it's silly, but I think the light blue of the new Volkswagen Beetles is just beautiful. I have a salad bowl that same color. It is baby blue, with a hint of brown in it so that it a little more sober and grown up, but still sweet. It is beautiful with white or cream, or with chocolate brown. I can't wait to paint some one's room this color when we buy a house. Does any one have a light blue Beetle I can borrow and get color matched :)?
I am in love with that slightly muted baby blue, but also I love this blue:
And this one.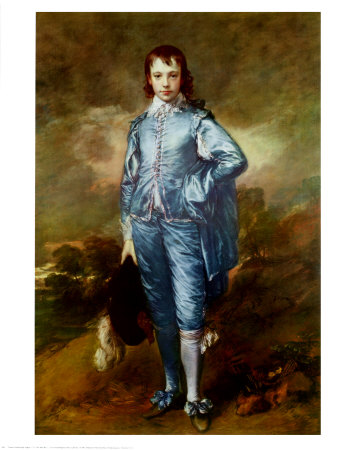 Anyone else find it interesting how the blue is paired with brown in both these portraits? I thought that was a new and modern twist, but it's as old as the hills...
Peacock blue is one of my favorite colors right now:
I took this picture at the zoo yesterday! I'm so proud of myself :). This peacock was loving the attention.
Last of all, I love this blue:
This hutch is a little darker version of the baby blue above. It is my favorite piece of furniture in our home. It is filled with tea trios, white teapots and flow blue china.
Flow blue has different shades of dark blue, from navy to electric blue and everything in between. Each piece is distinctive and beautiful.
Sigh. My love for blue has been the kind where you are friends for a long time before passion smolders. But now it has a hold on my heart and it's not letting go.
Now it's your turn: have any colors overcome your initial objections to become some of your most beloved? I'd love to hear about your unlikely love story.